Compare sizes from a collection of 100+ oversized plate configurations to find the best switch plate dimensions for your job. Kyle designs switch plates in exclusive sizes to fit specialized needs - that's why you'll find the largest selection of oversize wall plate covers here at Kyle Switch Plates.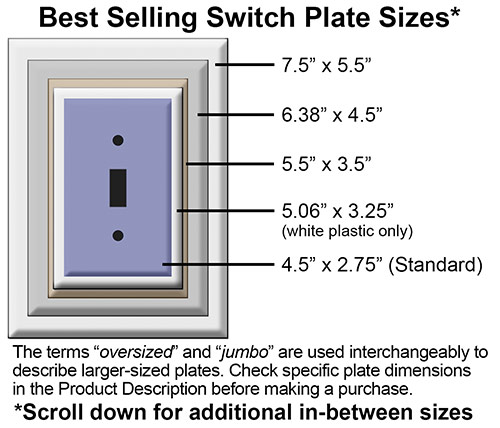 Guide to All Switch Plate Sizes:
---
---
---
---
---
---
---
---
---
---
---
---
---
---
---
Switch Plate Extender Plates
Kyle Switch Plate's expansion panels effectively cover extra space around your single gang, double gang or oversized 2-gang switch plates. Allows you to use the plate that is part of your existing light switch cover set, thereby maintaining a consistent look throughout your room. Simply screw the extenders in place in back of your standard or oversized face plate to cover extra wall space. Available in nickel silver or polished gold non-tarnish finishes.
---
---
---
---
---
---
---
---
---
---
---
---
---
---
---
---
---
Create Your Own Oversized Wall Switch Plates with Inserts