If you have a gap between your switch or outlet cover and the wall, you will find the solution here.
To see causes for gaps and how to fix them, keep reading. If you already know which deeper plate you need to fix your problem, shop deep switch plate covers and extenders here.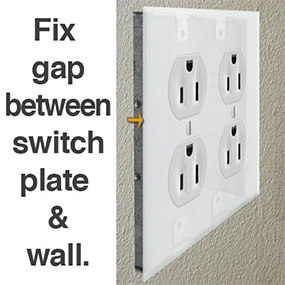 Are your switches and outlets sticking out from the because of a protruding electrical wall box? Find deep switch plate cover options using deep plates, extenders, rings, and spacers to fill gap.
Problem: You have a gap between your switch plate and wall.
---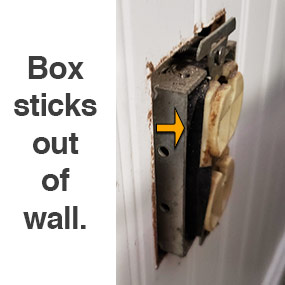 Cause #1: Protruding Electrical Box
Your electrical box doesn't sit flush with the wall surface, but instead protrudes out from the wall. When you add a switch or outlet cover, there's a gap between the cover & the wall.
This can happen when you remove wall paneling, tile, wainscot or batten.
Solution: Deep plates feature a deeper edge bevel to reach back farther around your electrical box's edges. Find the right depth for your needs.
---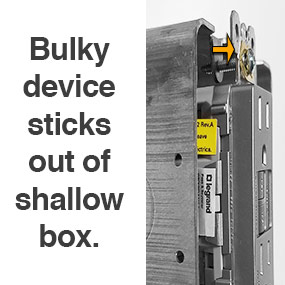 Cause #2: Protruding Device
You've replaced an old device such as a duplex outlet with a newer, bulkier device - such as a GFCI receptacles - and your electrical box is too shallow to accommodate the thicker device.
Solution: Put spacers between box and device to fill the gap, then use deep plates to reach back to the wall's surface.
---
Standard Switch Plate Depth
A standard light switch or outlet cover has a beveled edge with a depth of 5/32".
If your standard plate won't sit flush with your wall, determine how far off your plate is and choose from a variety of deeper covers.
---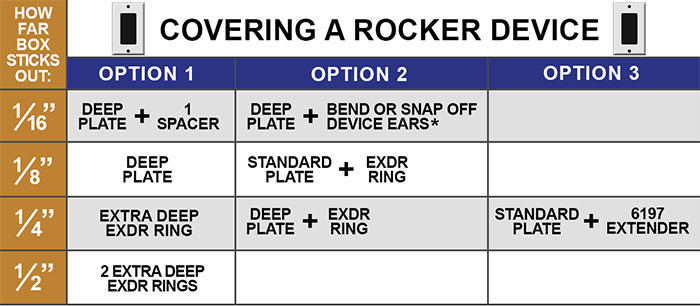 *Rocker device ears hit the inside of the large bevel on deep plates, preventing the cover from reaching back to the wall. Simply bend or snap off the ears and a spacer won't be required.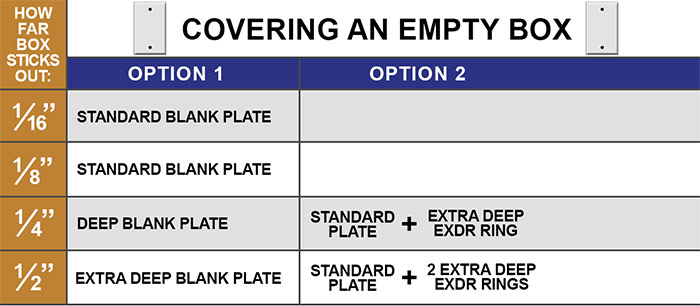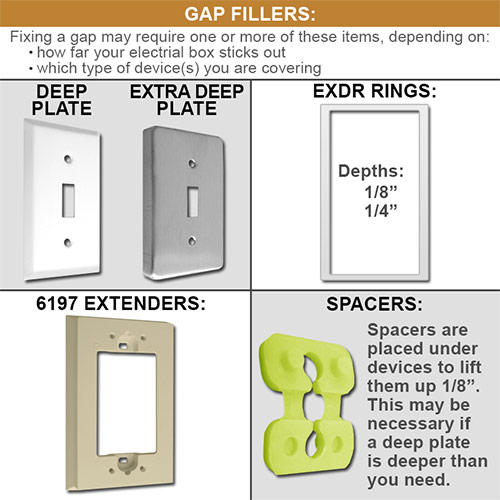 Measurements below indicate how much of electrical box will be covered with devices installed.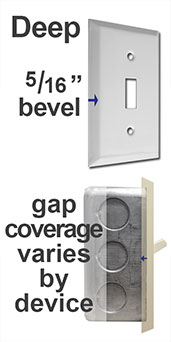 Deeper Switch Plate Depth
For an electrical box that protrudes slightly, covering switches with a deep switch plate can correct the problem.
These covers have added depth. The edge bevel is twice as deep as on a standard plate.
Deep plates sit 5/16" off the wall.
They work with boxes that protrude 1/16", 1/4" or 1/8" depending on the device in the box.
Toggle/Duplex: covers 1/16" of box
Rocker: covers 1/8" of box (to cover a 1/16" gap with a rocker device, add a 1/8" spacer under device)
Blank (no device): covers 1/4" of box
---
Extra Deep Covers
Some situations require even more coverage around the sides of an electrical box.
These covers are stainless steel and have an edge that turns back sharply rather than beveling like standard plates.
Extra deep switch plates sit 9/16" off the wall.
Covers wall box that protrudes 1/2" from wall's surface, or a device that sits 1/2" forward in box.
---
Get More Depth with Switch Plate Extenders
If you need to raise your covers off the wall a lot, use switch plate extenders behind your plates.
This may be necessary if you've removed a thick surface from your wall such as marble tile or brick.
Extenders (also called expanders) will raise a plate 3/4" off the wall, lift a device 1/2" out of the box, and cover up 1/4" of the box.
---
Extenders + Deep Plate Raises Devices More
If you need to lift your device further off the wall - for instance, to meet ADA regulations - simply put spacers between the extender and the device, then cover with a deep plate.
If your existing electrical box is flush with the wall, the extender will sit flush with the box and the wall, and lift the device up 1" off the wall's surface.
---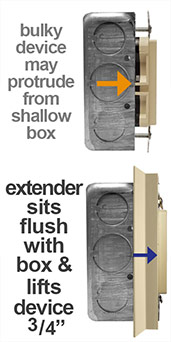 Shallow Electrical Boxes are another reason the need for electrical box extenders may arise.
Certain thicker devices - such as GFCI outlets and light timers - can stick out of shallow boxes.
Extenders will expand the box by 3/4" to ensure bulky devices fit.
Once device is installed over the expander, cover with a standard switch plate.
---
Switch Plate Gap Filler Depth Rings
Gap fixer rings sit underneath your cover to fill a 1/8" gap caused by an electrical device or box that sticks out.
A variety of sizes from 1-gang up to 5-gang in standard and oversized are available.
---
---
Switch Plate Extender Rings
Extender rings work like the 3/4" box extenders - you simply stack one underneath a standard switch plate to increase its depth.
An extender ring placed under a standard depth cover plate (such as the toggle one shown) will cover an electrical/handy box that protrudes from your wall 1/8".
These rings are available for single, double or triple gang boxes and must be used with a standard switch plate (which can be purchased separately - or you may already have the one you plan to use.)
Rings are slightly wider and taller than standard plates and will show around your plate's edges.
1-gang ring size: 3-1/2" W x 5-1/2" H x 5/32" D
2-gang ring size: 5-1/2" W x 5-1/2" H x 5/32" D
3-gang ring size: 7-1/2" W x 5-1/2" H x 5/32" D
---
Extender Rings Work with Deep Plates too!
If you have a shallow box that protrudes 1/8" off the wall and your device is too bulky to fit inside the box, pair a 1/8" single, double or triple extender ring with a deep plate.
---
Oversized Double Gang Plate with Clear Depth Shield
Add 1/4" of depth underneath 2-gang oversized switch plate covers with clear plastic cover plate depth shields.
NOTE: clear depth shield for use with 2-gang oversized covers only (for 2 side-by-side devices or for centered device in single gang boxes).
---
Create Custom Deep Switch Plate Configurations with Decor Inserts
Need a deeper light switchplate in a configuration you can't find on our site?
Use wall plate inserts to convert rocker openings to accommodate phone and cable jacks, toggle switches, blank slots and more.
With inserts, you can easily create a deep switch plate in any configuration.

In this example, we've converted a deep triple rocker plate to a cable jack / toggle / rocker combo plate with a cable jack insert and a toggle insert.
Shop all inserts to convert your wall plate & create the depth and configuration you need.