There are many situations in which there is great potential to end up with a bad-looking switch plate installation. We've seen everything from crooked electrical boxes to 10+ individual switches haphazardly mounted in a row on a single wall and even multiple switches put in sideways right next to each other. When you have a tricky situation - such as the need for several switches or a tight space - there are many solutions. And not every solution requires you to create an eyesore.
Here are some images that show poor execution, and a better, more attractive solution for each.
There's not enough space to fit a switchplate cover:
A common problem: you've remodeled a wet bar, bathroom or kitchen and once your stone or tile backsplash is in place you discover there's not enough space on one side for your switch plate cover.
In this case, there was at one time room on the left side for the cover, but the bullnose edge now leaves too little space for a cover plate.
---
The solution when you don't have enough space for a cover plate is to get a narrow switchplate.
Here, we have a narrow double rocker plate which is narrow on the left side. (Note: the cover may be rotated so that the narrow side is on the right if needed.) All the homeowner had to do was swap out the toggle light switch for a rocker switch.
---
You want to fix a piecemeal switch plate:
Woah! Lots going on here! This homeowner cut and pieced together a variety of plastic covers, and it isn't attractive.
The switches aren't spaced properly to fit into a normal 6-gang plate. And there's not enough room between the oddly spaced devices to fit a 2-gang plate next to a 4-gang plate.
---
---
If you don't have room to mount your switches vertically:
This beautiful home has a trendy kitchen (loving the white marble look!). But these sideways switches and outlet really threw me off.
It looks as though there was enough room to mount these devices vertically, in which case they could all be housed in one switch plate.
---
However, there are times when the mounted switch will fit, but there isn't quite enough room for the cover plate. If you have a situation in which there isn't enough space for a full sized switch plate (in this case, if the top counter started lower), Kyle Switch Plates has a collection of short switch plates so that you are not forced to mount outlets and switches horizontally.
---
If you already have the incorrect plate:
Here, there is a rotary dimmer in a rocker opening of a 4-rocker plate. The correct plate for this situation is the 1-toggle 3-rocker cover.
Rocker plate openings can easily be converted with inserts.
This customer doesn't need to buy a new plate, only a single insert.
---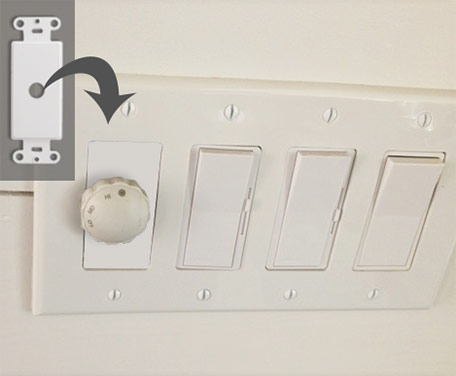 ---
When you don't want 2 plates in close proximity:
It doesn't look great when you have outlets and switches close together but mounted in separate cover plates, merely inches apart.
---
If you can't go up to a 4-gang plate, you can combine 2 or more switches into a single device. That way all your devices can end up in the same plate which is a much nicer look.
---
When 1 or more switches is no longer being used:
Here are 6 Despard light switches by a home's front door. There's tape covering the top center switch to indicate that it should remain in the off position.
---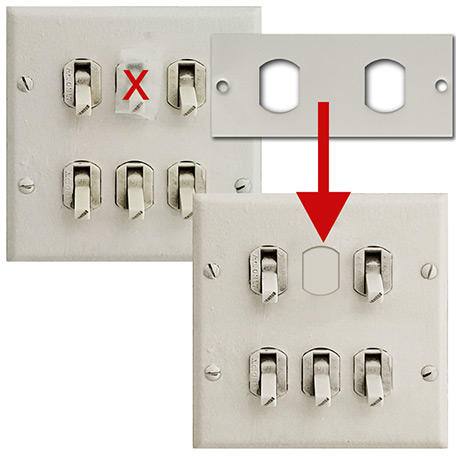 ---
When the wall or wallpaper is worn around your light switch:
If the area around your switch is damaged, such as this worn out wall paper, you can cover the area by enlarging the size of your switch plate.
In this case, the homeowner already has an oversized switch plate covering their switch. There are even larger covers available here.
---
One option is to replace the plate with an even larger cover. Another choice is to simply add a flat plate expander behind the current switchplate.
Plate expanders can be painted to match the wall or even covered with some of the leftover wall paper to disguise it (if any is on-hand).
---
When electrical boxes are too close together:
If 2 electrical boxes have been placed too close together, the spacing of the switches won't allow for a single plate to cover both boxes. There also won't be enough space between the boxes for 2 plates to go side by side.
---
Use 2 narrow switch plates side by side to cover switches in adjacent electrical boxes.
You may need to update some of your devices to rocker style if you need larger gang plates with narrow edges.
---
Too many devices in a single plate: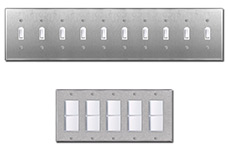 Restaurants often have a large quantity of light switches like these 10 toggles all lined up. Woah!
With combination devices that can pack up to 4 switches in a single rocker opening, there's no need to create such a large hole in the wall.
The 5-gang plate is a much better solution. Plus, you can print labels to stick to each switch to keep them straight.
---
If you need to label your switches:
Often when you have more than 3 to 4 switches, you'll want to label them. Especially if they're installed in a business, office, restaurant, school, hospital or hotel.
Get custom engraved light switch labels to ensure you and your entire staff know which switches do what.
---