Vintage doorbell intercom speakers can be updated with blank covers or upgraded to fit a video doorbell.
Review photos of doorbell covers by Nutone, M&S, Tektone, etc. and their underlying boxes. Find the type to replace your intercom speaker when covering up the old box or installing a new video doorbell.
Cover, Update or Convert Your Old Doorbell Intercom Box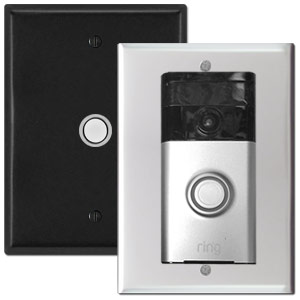 If you are removing a vintage doorbell or intercom system, you can cover the old wall box with a blank cover.
You can also get covers to fit these old boxes that will work with a new standard doorbell or video doorbell system.
Learn about how to find the right door bell cover solution to fit your needs.
Shop intercom and doorbell speaker covers here.
---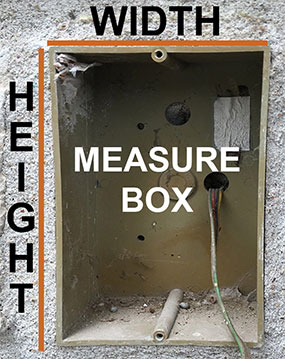 To update an old intercom to either a standard or video doorbell, you'll first need to remove the intercom speaker cover to get the dimensions of the box.
The new cover plate must be larger than these dimensions to ensure full coverage.
Most of our intercom covers are one of these common sizes:
6-3/8" x 4-1/2"
7-1/2" x 5-1/2"
It's important to make sure the plate's dimensions will clear any nearby obstructions (such as raised brick, a corner, window trim or a door jamb). Especially if the plate is larger than needed to cover the box.
---
Next, locate the screw holes that held the old cover in place. This is where your new blank intercom cover will be screwed into the box.
The holes may be at the top and bottom, or centered on the left and right sides.
Measure from the very center of one screw hole to the very center of the opposite screw hole.
The distance should be one of these:
3.28" (3-9/32")
3.75"
4.50" (common spacing)
5.25" (common spacing)
6.25"
6.63" (6-5/8")
MEASURING TIP: Measure using a hard, flat ruler for the greatest accuracy. Thick or curved tape measures should be turned so the edge is against the surface. We do NOT recommend using a cloth tape measure when accuracy is required: they stretch and are not designed for precision.
---
Next, determine which type of cutout you need the plate to have.
Our intercom cover plates come 3 ways:
blank (screw holes only; for covering box or adding wireless doorbell)
round center cutout (for connecting wires to new doorbell)
large rectangle cutout (for recessed video doorbells only)
BLANK:
Get a blank plate to cover the box with no replacement doorbell OR to act as a backplate for a wireless doorbell.
For a surface mount video doorbell, you will use the mounting bracket that comes with the doorbell unit to mark and drill holes into the blank plate. Our plate will act as a backplate to mount your wireless surface mount video doorbell.
---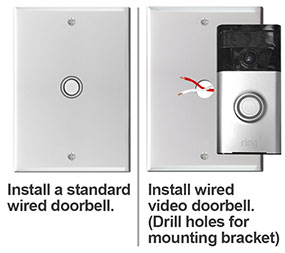 SMALL ROUND CUTOUT:
Get one with a small round hole for wired doorbells, whether they are standard push button doorbells or video doorbells.
For a video doorbell, the wires will poke through the round opening, but you will still need to use the doorbell's bracket to mark and drill mounting holes into the plate. Note this is for wired surface mount video doorbells and not for doorbells that recess back into the wall.
---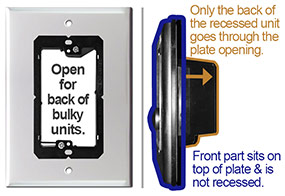 LARGE RECTANGLE CUTOUT:
Get one with a large center opening ONLY if you are installing a bulky video doorbell that has a back part that recesses into the wall (such as the Ring Elite).
The opening is large enough to accommodate the portion of the unit that sits back into the box. Drilling is still required to mount the unit's bracket to the plate. The face of the unit will not be recessed to sit flush with your home's exterior, but will sit on top of our cover plate.
---
Now that you know the outside dimensions of your box, the spacing between the screw holes, and which type of cutout you need, you can locate a plate to fit your box here.
See our detailed blog post for more instructions on converting an old intercom box to a modern doorbell.
Before and After broken doorbell update to Ring - submitted by customer.
Vintage Doorbell Intercom Boxes - Photo Examples
Below are "before" photos submitted by customers who purchased intercom covers on our site.
Electrical box (behind your old speaker) may be slightly bigger than the 6.4" covers; use weatherstripping or gaskets to cover edges if needed.
NuTone Door Bell Intercom Box
---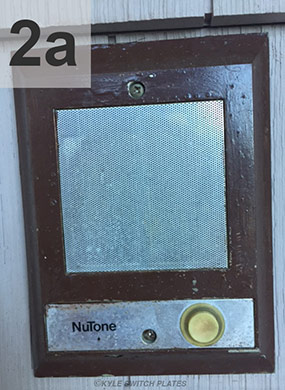 NuTone Doorbell and Speaker
---
Vintage NuTone Exterior Door Bell Box
---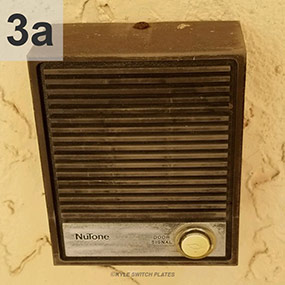 Another NuTone intercom example.
---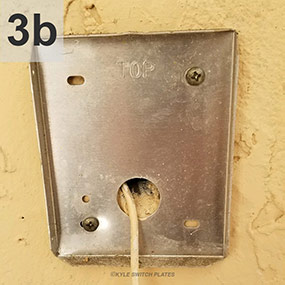 The back plate has diagonal screw holes for attaching a cover.
---
This NuTone NF300DWH door bell intercom speaker sits on a raised mounting ring that protrudes from the home's exterior wall.
Mounting Ring: 6-5/8" x 4-7/8"; screw holes at 5.25".
---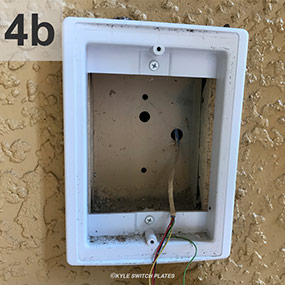 We recommend removing the raised mounting ring (shown here) to reveal the wall box.
Wall Box: 5" x 3.5", holes spaced 4.5".
A replacement cover can be mounted directly to the wall box so that it sits flush with the home's exterior surface.
---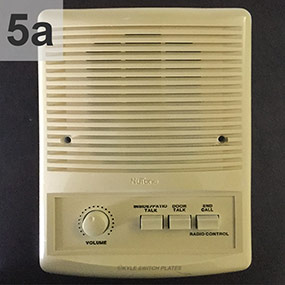 NuTone Intercom with side screws.
---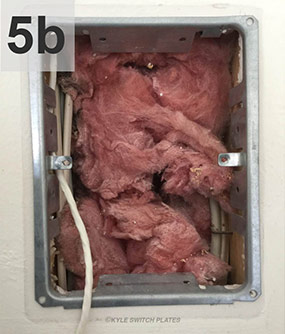 Interior NuTone Intercom Box
---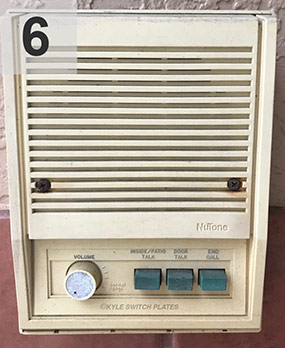 NuTone Intercom Speakers with Side Screw Position
---
Doorbell & Intercom on Home Exterior
---
Door Bell Wires in Intercom Box
---
Door Chime Box & Speaker Cover
---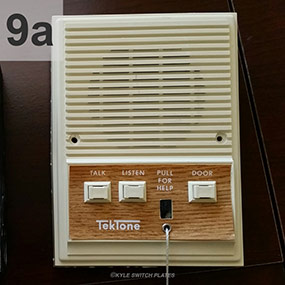 ---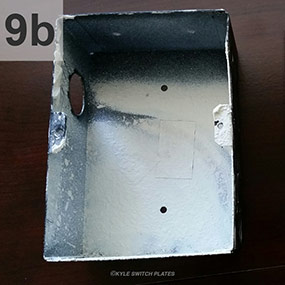 Metal TekTone Intercom Wall Box
---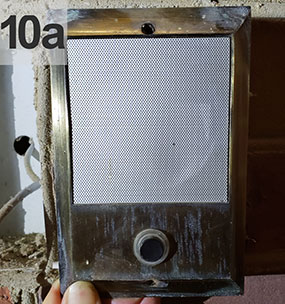 M&S D3B Speaker with Doorbell
---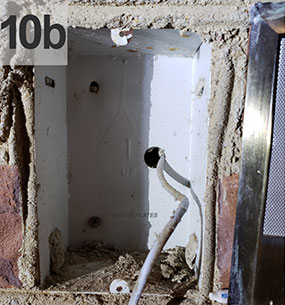 ---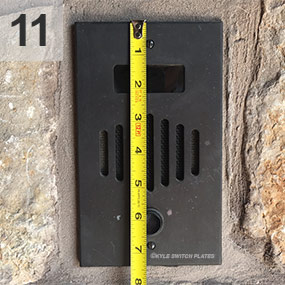 This old dooorbell speaker (on a home in Austin, TX) measures 7-3/8" x 4-3/8".
The correct blank box cover for this particular unit is item SPBTV2H62, which is 7.5" x 5.5" with a screw spread of 6.25" (center to center where plate screws into box once old cover is removed).
This plate may be used to cover the empty box or drilled to accommodate a new doorbell unit.
---
This intercom is attached with screws on the sides that are spaced 5 inches center to center.
---
---
Doorbell Cover Size Chart
Screw spacing is measured center to center (CC) and is vertical distance unless otherwise noted.
Choose from plates with no center hole, 5/8" center hole (also fits small door bell push button), or large cut out.
*Cutout is 2-1/8" W x 3-3/4" H before plastic mounting ring is installed. Clearance is about 1-7/8" x 2-15/16" with ring installed.