If you no longer have room for a triple switch plate, whether because new furniture or remodeled cabinets are now covering it, here are some great solutions. Standard three gang light switch covers are 6.38" wide by 4.5" high, so these ideas can reduce that width to 4.5", 3.5", 2.75" or even less.
Despard Stacked Horizontal Switches - Flexible and convenient, these small interchangeable switches and outlets fit within a single gang switch plate to allow you to have up to 3 horizontal switches (or two switches and one outlet) in one location. With their traditional toggle styling, they easily match the overall look of your current toggle switches. These triple toggle horizontal cover plates are a standard 2.75" wide with 3.5" wide oversized and multiple narrow versions available as well.
---
Stacked Rocker Switches - Multi-switch modern rocker switches are available with two, three, or four switches on a single device for a single opening on any size light plate. So you could have a one gang wall plate (2.75" wide) with four switches in it if necessary.
---
Combination Devices In the same way that you can reduce a three switch plate using stacked switches, you can apply these same ideas to a 4-gang, 5-gang or larger switch plate to create a very compact space for multiple lighting controls. For example, using a 4-rocker light switch and a combination stacked 2 rocker & outlet switch, you can even turn a 6 opening wall plate into a double switch plate with 6 light switches and an extra outlet.
Buy Stacked 3 Rocker Switches and Stacked Rocker + Outlet Switches
---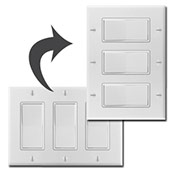 Rotate your current electrical box to a vertical orientation. Switches will flip on and off sideways, but your plate will now be only 4.5" wide (instead of 6.38" wide when positioned horizontally).
---
Narrow Switch Plates - If the standard width Despard or Decora switch plates are still too taking up too much wall space, single gang skinny wall plates are another great solution when combined with stacked electrical light switches.
Available in 1.5", 1.75", 2" 2.25" and 2.5" versions.
---
Half Narrow Light Switch Covers - If your light switch cover ends up being too close to a piece of furniture such as a bookshelf, you can turn a 3-switch wall plate into a 2-switch wall plate using a half narrow 2-gang rocker light switch wall plate along with a stacked double rocker switch.
---
Half Narrow Triple Decora Switch Plates - If you want to keep the three decorator switches that you already have installed, then this specialty wall plate may fit the bill. Trimmed off by 1/4" on one end (you decide which - just flip over as needed), this narrow 3 rocker light switch cover may be just narrow enough to get you out of a tight spot.
---
Half Short Triple Rocker Switch Covers - Use this plate when you don't have enough space on the top or bottom of a triple gang electrical box for a full-sized cover plate. This is common when working near kitchen or bathroom tile. If your switches and devices are not rocker style you can either buy rocker switches, update to GFCI block outlets, or use conversion inserts to create the openings you need.
---
Combination Blank Switch Plates - If you prefer to keep a three gang switch plate in case your decorating changes in the future, consider closing off one spot with a combination half blank wall plate. If you still need to use all 3 switches, replace one of the switches with a double stacked switch. Then for the unused position, fill it in with a blank insert or get a new blank/2 toggle switch plate.
---
Oversized Three Gang Extender Rings - Add one of these depth rings behind any triple switch plate to add depth. This is used as a solution when your 3 gang electrical box is protruding from your wall causing your cover plate to have a gap between the plate and the wall. This commonly happens when paneling has been removed from a wall - you may find that the electrical box for your switches and outlets was sitting flush with the paneling and now sticks out from the sheetrock. Get your triple plate to sit flush with your dry wall again with this simple solution - available only from Kyle Switch Plates.
---