Compare low voltage switches from the front and the side to find the right look and size to fit in your location. Note that some lovo switches are modular in style while others are mounted in a full bracket or cover. Choose your style depending upon the amount of space you have both for your electrical box in the wall as well as the surrounding area.
Touch Plate Brand Low Voltage Switches:
Touch Plate offers a variety of looks for your low voltage lighting system. Replace Touch Plate parts or upgrade the look of your GE, Bryant, discontinued Pyramid or Remcon system.
Touch Plate has 6 different series (shown below). Each operates the same (although some have LED options to indicate which lights are on) - simply choose the look that's right for you and order from Kyle Switch Plates.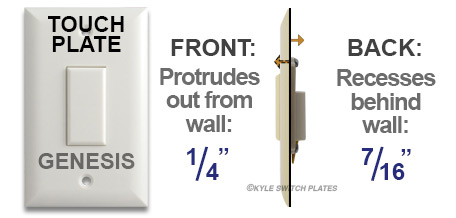 Genesis lighting controls are the slimmest choice, recessing into the wall less than half an inch.
---
5000 Series switches are slightly thicher than Genesis, recessing .5" behind the wall.
---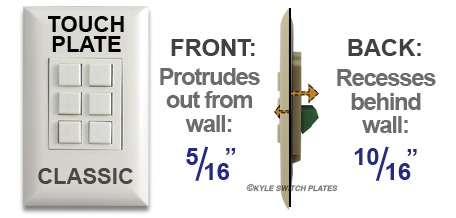 Classic lighting control stations are a popular choice. The switches in this line recess .625".
---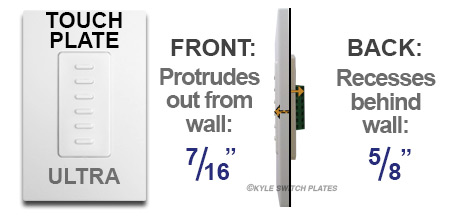 Ultra units are another very popular option because of their screwless switch plates and the option to buy just the switches and pair with any rocker style cover.
The Ultra line recesses .625" (the same as the Classic series).
---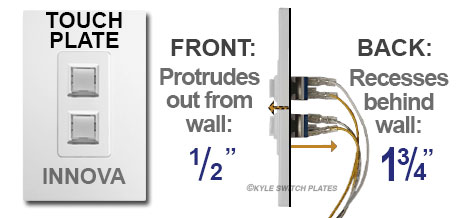 Innova style lighting switches have clear square buttons that you press to work the lights.
Innova units require the most room behind them for connecting the wires since they recess 1.75".
---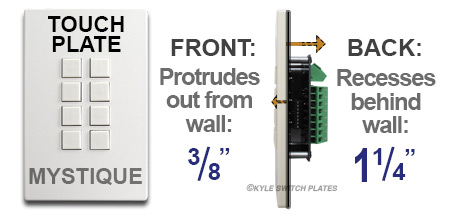 Mystique switches from Touch Plate are the thickest control stations, recessing back 1.25". If space is limited, this may not be the best option to fit your needs.
---
New Light Switches for Low Voltage Systems (GE & Bryant):
GE RS2-32 switches in New Style Snap-In switchplates need 1-3/16" of space behind the wall.
These switches are compatible with GE & Bryant systems, as well as other 3-wire systems such as Sierra, Pyramid & Remcon.
Shop GE Low Voltage Lighting Switches.
---
GE RS2-32 switches in Bracket Mount wall plates will need more room than when mounted in the New Style Snap-In plates.
Bracket mounted GE switches require 1-1/4" of space behind the wall.
---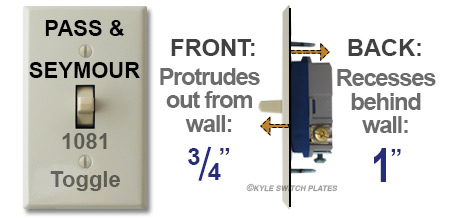 P&S 1081 Toggle switches can be used to replace any 24V low voltage switch in a 3-wire system (such as GE, Remcon or Bryant).
---
Replacement Despard Switches for Sierra Brand
Pass & Seymour 1091 momentary contact Despard switches replace old switches in a Sierra low voltage system as well as Bryant's Uniline switches.