Learn tricks of the trade to fix a crooked outlet or straighten an uneven light switch plate cover.
Whether your electrical device is mounted at an angle, or your junction box is tilted up or back, or the wall surface is lumpy, you'll find solutions to get your electrical cover looking its best.
By simply adjusting screws, or by using goof rings, spacers or flexible metal wall plates, we'll help you get your job done fast.
Adjusting Device Screws
You can shift electrical devices by (first, turning off the power at the circuit breaker), then loosening the screws mounting them to the electrical box.
The devices all have an elongated oval screw hole that allows them to be shifted around to ensure that they line up with cover plate openings.
---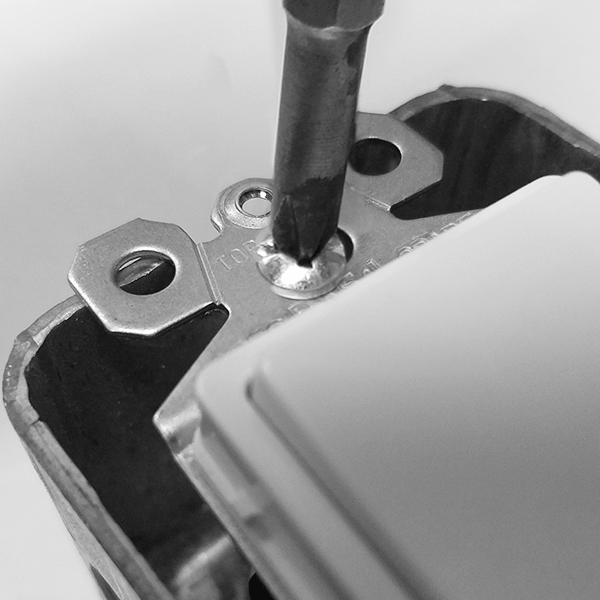 By shifting the top of your switch one way, and the bottom the opposite way, you can straighten out devices that are mounted in a crooked or tilted electrical box.
You may also be able to push the device up or down slightly in relation to other devices in a multi-gang wall box to visually straighten the light switch cover.
This will fix crooked light switch covers, or at least get them closer to looking level.
---
Installing a Goof Ring
Another fix for a crooked outlet box - especially if it's the top or bottom that's sitting further in the wall - is to add a goof ring underneath your receptacles.
Goof rings slip into the electrical box but sit flush against the wall surface. Devices are then installed over them, which fixes any alignment issues from tilted or angled wall boxes.
Once installed, electrical devices will be properly aligned and you'll no longer have crooked outlet covers.
Purchase Box Straightener Goof Rings:
---
Adding Spacers to Even Out an Electrical Device
If your electrical devices are sitting in a box that is rotated forward or back, you may need to use spacers to bring the top or bottom of the outlets or light switches forward.
For minor adjustments, you'll just need a single spacer.
For larger adjustments, spacers can be stacked until you get your switches straight.
You may need deep cover plates that have a larger beveled edge to reach back to the wall if you lift your devices too far from the electrical box.
---
Metal Covers Best for Lumpy Uneven Walls
Your walls may have a warped, uneven surface that you didn't notice until you put up beadboard or board and batten.
Getting cover plates to sit flush with a lumpy wall can be tricky.
Plastic plates are the worst in this situation because when you screw too tight against an uneven surface, the plate is likely to crack or snap. Cast metal plates are too rigid and won't bend to fit the wall.
Choose flexible metal switch plates to cover uneven surfaces.
Durable steel switch covers can be cinched down tightly against the wall.
---
Once your switches and outlets are straightened out, make sure your standard size cover completely covers the hole in the drywall.
If the switchplate exposes damaged drywall around the electrical box, you can get an oversized cover plate as an easy and inexpensive fix.
---
Custom Switch Plates for Oddly Spaced Electrical Devices
Still having issues? Get plates for oddly spaced devices.
Odd Spacing - Devices too Far Apart
When boxes butt up against each other, the spacing of the devices requires specialty switch plates, which we carry.
---
Switches Spaced Too Close Together
Shop tandem covers if you have two or more devices positioned too close together for separate covers.
---
Browse Electrical Device Cover Solutions to find fixes for other electrical problems.