Learn how to install a centered light switch or outlet in the middle of a 2-gang electrical box to provide extra room for bulky wiring.
Pay close attention to the style of your electrical box; there are different solutions for covering each.
Use the links to find the correct solution:
Covering a 2-Gang Box with 1 Switch
If you needed a deeper box to accommodate a bulky light switch or GFCI outlet, or if you couldn't cram the electrical wires safely into a single gang box, you may need to mount your device in a 2-gang electrical box.
If you have an electrical box for 2 devices, but only need 1 switch or outlet, you have 2 options:
install the device to one side
center the device
---
On the left, you will see the first device is off to one side.
The second option is to center the switch in the double-gang box by mounting it to a center device cover plate, which then screws into the 4 openings in the electrical box.
---
---
Adding a Device to a 4x4" Junction Box
Square junction boxes do not have tabs for mounting devices.
Adding a mud ring to the box will allow you to install a single device.
---
The mud ring is held in place using the junction box screws in opposite corners.
A switch or outlet can then be mounted directly to the mud ring.
A 2-gang center device cover plate can then be mounted to the device in the same way a standard cover would be. Note: you may need to trim down the cover plate's screws.
---
Mounting Single Device in Large Square Juntion Box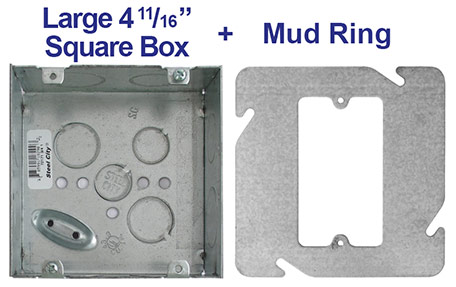 Larger square juntion boxes that are 4-11/16" can also hold a single device with the addition of a mud ring.
---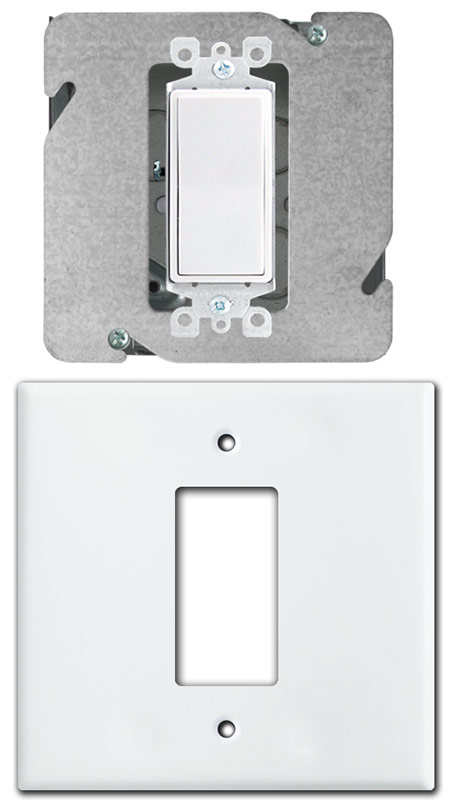 ---
Extra Coverage Around Single Electrical Box
Double gang covers with a center device cutout can also be used with single gang boxes.
Here is an example of a single switch with a gap between the wall surface and the electrical box.
A standard switchplate will not cover the damaged wall alongside the switch.
---
Use a 2-gang centered cutout cover plate to cover a single device in a 1-gang electrical box when you need to cover extra wall space on either side of the box.
---
This plate mounts to the electrical box in the same way as a standard cover plate.
The difference is that a standard cover is 2-3/4" wide, while this wider plate is 4-9/16" wide, resulting in greater coverage to the left and right of the box.
If you have a gap around your single gang electrical box, this plate will fix the unsightly problem.
You may also want to add this wider cover in high-traffic areas where a switch gets lots of use. The wider wall coverage from this double gang plate will give your wall some added protection.