If you have a Touchplate Genesis low voltage switch with an adapter on the back for line voltage, see your options below for a modern solution.
Some Touch-plate Genesis switches from 1949-19537 had a special adapter module on the back that allowed its rectangular button to control a regular light switch (i.e., be connected to line voltage).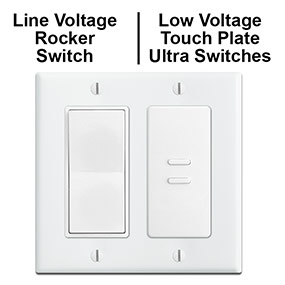 Here, there are 2 separate electrical boxes in close proximity. Both have a single Touch Plate Genesis switch, but one has a line voltage adapter on the back.
You can keep the low voltage Touch Plate as is, if it's still funtioning. Or, replace it with a new single Touch Plate switch.
The low voltage switch on the right has a line voltage adapter. The part may be marked as "Made for Touch-Plate Mfg. Corp. Long Beach, Calif. By Micro Switch Freeport, Ill. U.S.A. Cat. No. 2WS1. X4613." These switches may have been made as single pole or 3-way versions. To update this switch, swap it out with a standard rocker light switch and cover plate.
If keeping the original brown low voltage switch, consider putting a brown rocker switch in an ivory switchplate to match the look.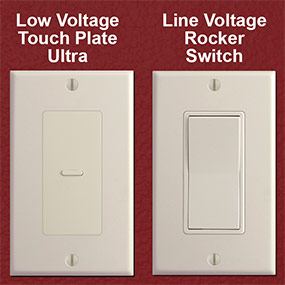 If you want the two plates in close proximity to match, you can opt for 2 single rocker covers in white or light almond, and get a single button Touch Plate Ultra switch.
Note that Touch Plate's almond finish isn't an exact match to the light almond finish of the plates and rocker switch.