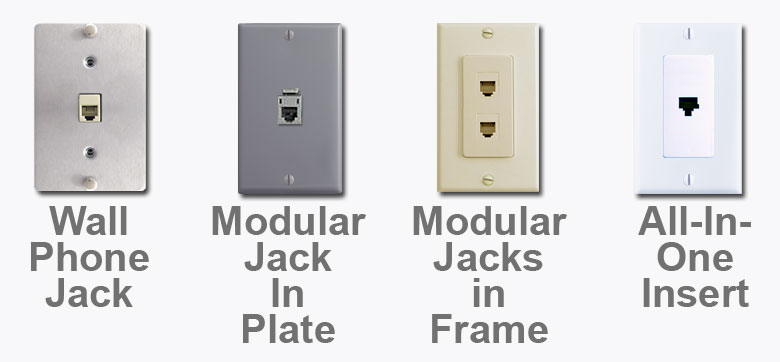 Understand Your Options Before Installing Equipment
There are many ways to approach the installation of telephone jacks for a home system. If you're building a new house or even just remodeling a room, you may yet not be aware of the many phone jack models available for installation. This article gives an overview of considerations and options so you can make the best selections to fit your project.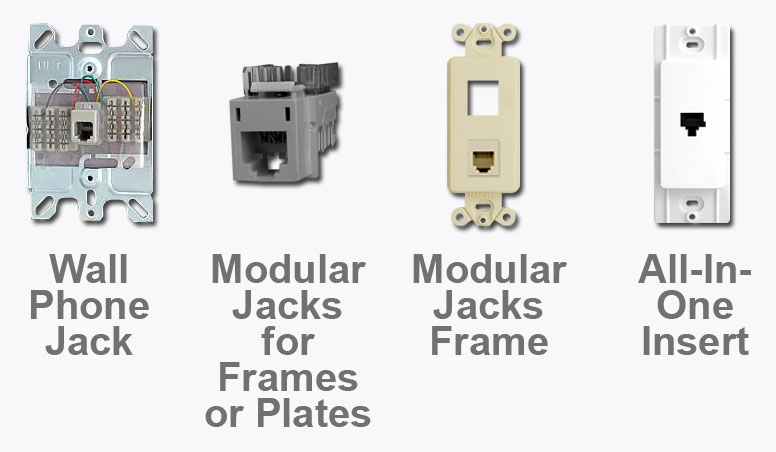 There are three basic approaches to the phone jack - wall mounted hardware, modular connectors with frames, and built in connectors. This last type is available either as full switch plates or as all-in-one inserts that fit into Decora style switch plates.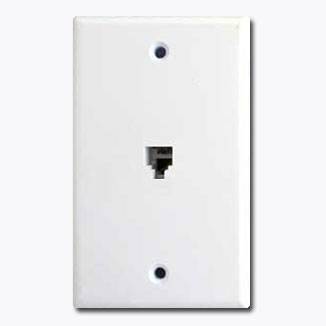 With the standard plastic telephone jack plates shown at left, the phone cables are wired directly into the back of the plate. These wall plates are usually a standard size of 4.5" high by 2.75" wide. The male phone cord plug snaps directly into the female notched hole in the front of the plate. When upgrading to metal switchplates, ceramic plates or other non-plastic wall plates an alternate set-up must be used. The solution is to use one of the following: An all-in-one phone jack insert, a modular jack snapped into a metal phone jack cover, or phone jack adapters used in an easy-to-modify modular jack frame. We describe each of these options and wall phone jack plates below. Click any of the links to view or purchase that item.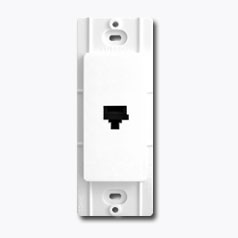 The all-in-one telephone jack insert fits into a Decora style switch plate opening (the large rectangular opening that is roughly 1.25" wide by 2.5" tall). The advantage to these inserts is that they can easily be wired to adapt to your current set-up. Some of the downsides of this type of device are the limited color choices and the larger area of device vs. switchplate. When using metal switch plates, it is often more desirable to have the phone jack be as small and unobtrusive as possible. Notice that the back view of this item has the terminal screws and wiring built right into the unit.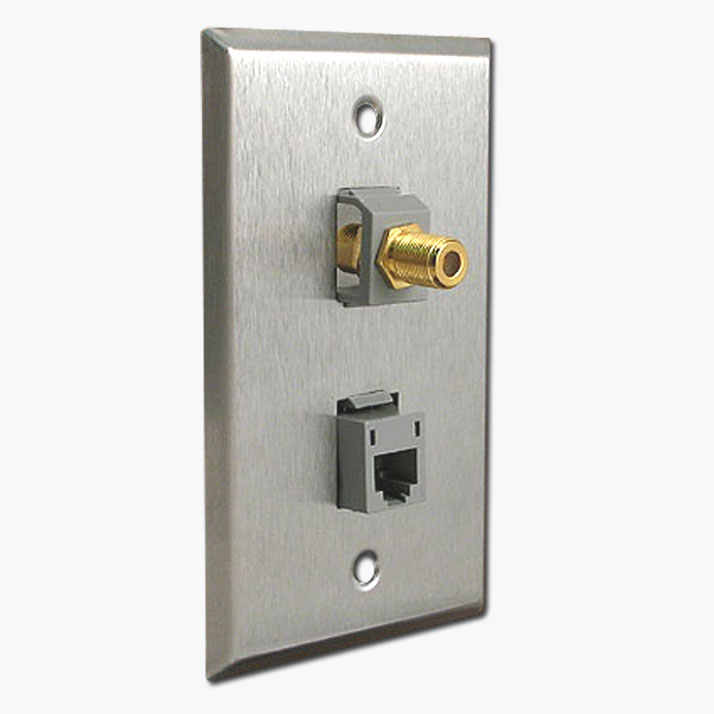 The advantage of metal phone jack switch plates is that the adapters take up very little space on the plate. This is in contrast to an all-in-one insert used with a modern Decora style switch plate where the unit takes up half the visual space. Metal phone jack wall plates are available with one, two, three, or four openings for keystone modular jacks. Shown is a stainless steel switch plate with gray modular cable TV and phone jacks.
Modular Phone Jacks with Metal Phone Jack Plates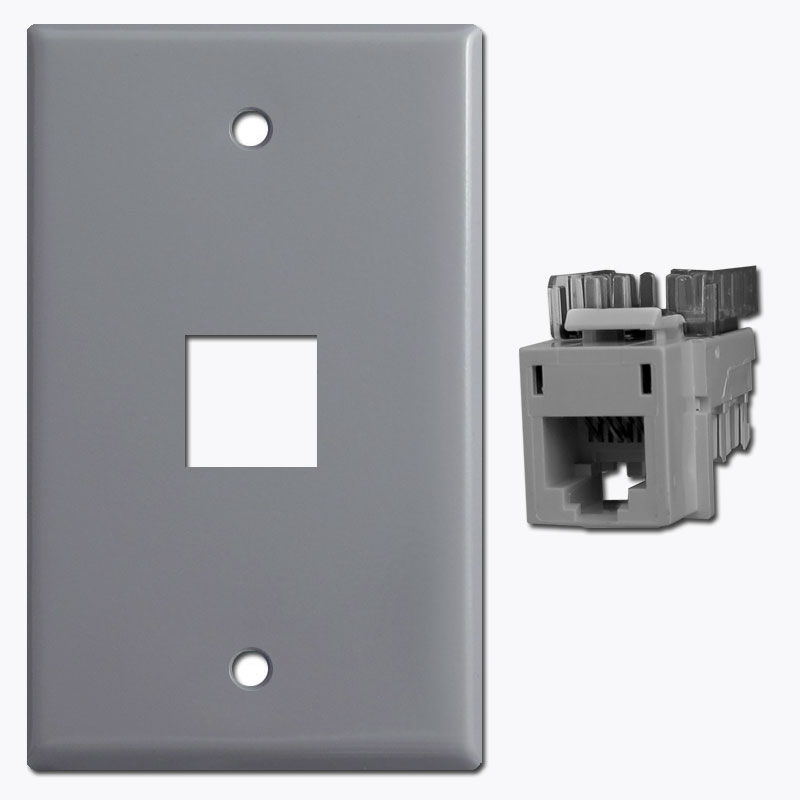 Metal telephone jack plates do not have phone mounting hardware on the back because electrical wires cannot be mounted directly on a metal plate as they would conduct electricity. The solution is to use plastic modular telephone jacks designed to snap directly into the small rectangular plate opening. The small rectangle opening is 9/16" W x 3/4" H. (The overall plate dimensions are still a standard 2-3/4" W x 4-1/2" H x 1/8" D with screw holes spaced 3-5/16" apart from center to center.) Using a modular jack allows more of the plate color to show, rather than a plastic insert. This is more attractive and preferable when using beautifully finished plates.
Daisy Chained Telephone Wires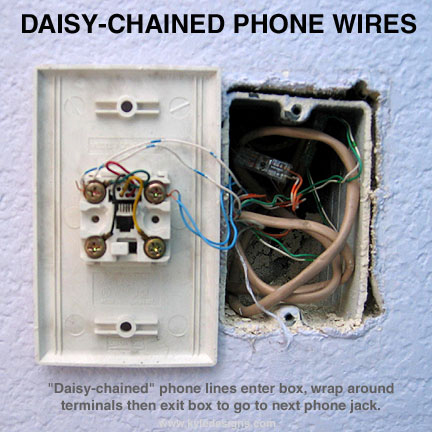 Important Note: Modular jacks cannot be used if the telephone wires are daisy-chained, meaning that the wires don't end at the screw connectors but instead wrap around them and then continue back out of the box to the next phone box. See the example of daisy chained wires at left.
Modular Jack Adapters with Phone Jack Frames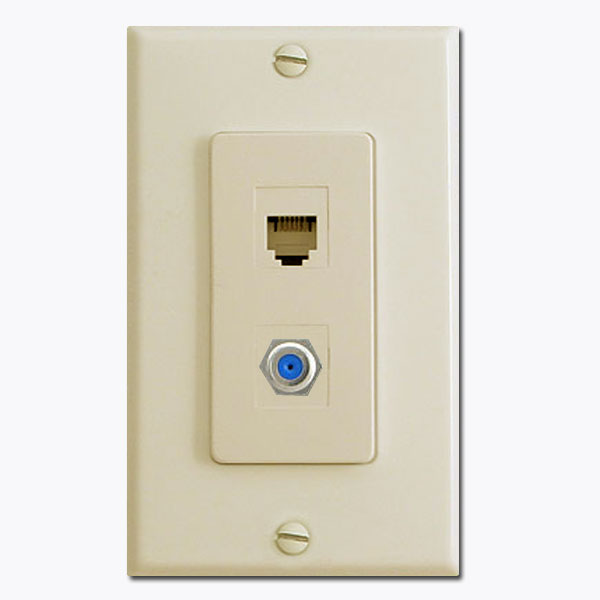 Modular telephone jacks are designed to snap directly into a plastic frame that has multiple port openings. These plastic frames fit into Decora style wall plate openings and are quite versatile by allowing flexibility in the communication system setup. Frames are available with 2, 3, 4 or more port openings. Jacks are available in USOC (standard telephone connections), Cat5E (Ethernet connections), coaxial cable (or coax, used for cable television and internet connections) and RCA (sound cable connectors). This variety and versatility allow you to easily change, add or subtract modular jacks. Unused ports are simply filled with a blank snap-in cover until needed. Again, daisy chain telephone wire set-ups preclude the use of modular jacks. See previous section for details.
Wall Phone Jack Plates for Surface Mounting Phones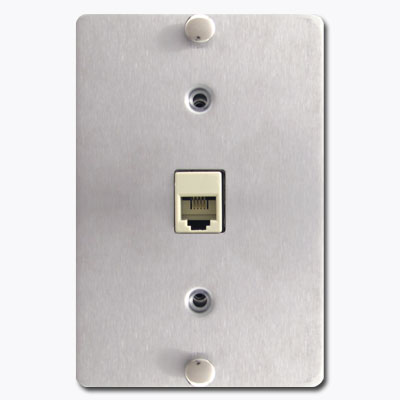 Wall mount phone jack devices are usually designed for one telephone and include lugs so phone can be hung on the wall. Metal or plastic switchplates are generally included and the size is slightly larger than standard switchplates in all directions with actual dimensions of 3" x 4-1/2" x 3/8". Hardware may also include removable lugs and plastic inserts that allow conversion from a wall phone jack to flush mount telephone jack. It may be possible to use oversized telephone jack switchplates with these devices as long as the depth (a standard 1/8") is satisfactory. Standard plates are raised 1/8" with a 3/16" bevel around the outside (flat surface area is 2-7/16" x 4-3/16") and may not be deep enough or wide enough to cover the telephone hardware you have underneath as some are designed larger.
Up Next: How to Install a Phone Jack - easy instructions with pictures.