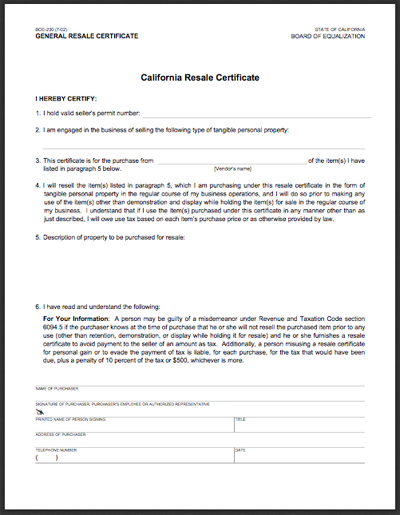 If you are located in a state requiring sales tax and are purchasing wholesale items for resale, we must have a valid, signed Resale Certificate on file in order to exempt the sale from your state's sales tax. Tax exemption form is only valid for contractors, electricians, and others intending to resell the items within their state of residence.
1. Please create an account.
2. Fill out and sign the appropriate Resale Certification for your state. Please see links below.
3. Email us the completed, dated and signed resale certificate form (or fax to 925-454-5364). We will review your form to validate the exemption.
4. Once approved we will notify you that your account is approved for tax exempt purchases. You must be signed into your account at the time you are placing an order for tax exempt status.
Note: purchaser must be in the business of selling the items requested for sales tax exemption for the exemption to be approved. Alternately, you may request a refund from your state at the time you file your sales taxes.
STATE RESALE CERTIFICATE FORMS
Alaska Resale Certificate Form
Arkansas Resale Certificate Form
California Resale Certificate Form
District of Columbia Resale Certificate Form
Florida Resale Certificate Form (ex. of the needed DR-14 form)
Georgia Resale Certificate Form
Hawaii Resale Certificate Form
Illinois Resale Certificate Form
Indiana Resale Certificate Form
Kansas Resale Certificate Form
Kentucky Resale Certificate Form
Louisiana Resale Certificate Form
Maryland Resale Certificate Form
Michigan Resale Certificate Form
Minnesota Resale Certificate Form
Nebraska Resale Certificate Form
Nevada Resale Certificate Form
New Jersey Resale Certificate Form
North Carolina Resale Certificate Form
North Dakota Resale Certificate Form
Oklahoma Resale Certificate Form
Pennsylvania Resale Certificate Form
Rhode Island Resale Certificate Form
South Dakota Resale Certificate Form
Tennessee Resale Certificate Form
Vermont Resale Certificate Form
Virginia Resale Certificate Form
Washington Resale Certificate Form
West Virginia Resale Certificate Form
Wisconsin Resale Certificate Form