Locator Switches
Locator switches illuminate when they are in the OFF position, to help you locate them in the dark.
---
Pilot Light Switches
A pilot light switch illuminates when the switch is in the ON position, to alert you that a light that's out of site at the switch (such as an outdoor, basement or closet light) is on.
---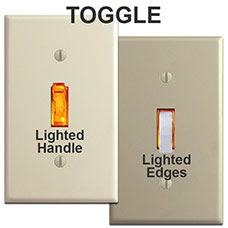 Lighted Toggles
Some toggle switches have lighted handles, while others are only lighted around the toggle's edge.
---
Lighted Rockers
There are a variety of ways a rocker switch can be lit.
Some rockers have an embedded jewel that lights up.
Others have a light inside that glows through the paddle.
Certain combo rocker switches have a bar along the top or bottom switch that can be removed and replaced with a snap-in light bar.
---
Illuminated Outlets
Outlets can also provide illumination.
These receptacles have built-in night lights to the side of the GFCI set/reset buttons.
Perfect for bathrooms and hallways at night.
---
Illuminated Wall Plates
Pilot Light Switch Plates
A pilot light can also illuminate a bulb inside your electrical box.
One way to cover this pilot light bulb is with a switch plate that has a jewel placed in a round opening.
---
---
Illuminated Louvered Switch Plates
A light inside the wall can also be covered with a louvered switch plate, which allows the light to shine through the slats in the plate.
This is a common way to light outdoor steps.